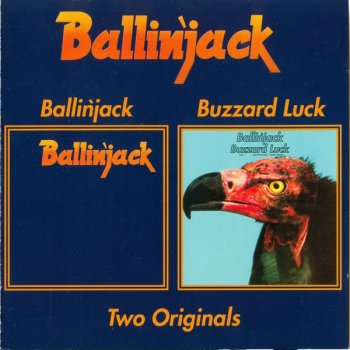 Artist: Ballin' Jack
Title Of Album: Ballin' Jack / Buzzard Luck
Year Of Release: 1970/72/2006
Label (Catalog#) : Walhalla [WH 90373]
Country: USA
Genre Funk Rock, Jazz Rock, Brass Bock, Psych Soul
Quality: FLAC (*image + .cue,log,scans)
Bitrate: Lossless
Total Time: 01:11:35
Total Size: 466Mb
Seattle Washington's horn rock legends, Ballin' Jack originally formed in 1969 after witnessing the success of their childhood friend blossom and then explode. Who was this childhood friend? Well none other than the one and only Jimi Hendrix. While Ballin' Jack never reached the same olympian heights that Hendrix did, their self titled debut garnered critical acclamations and respect amongst horn rock aficionados. Most of the material from their self titled debut album was played on tour with Hendrix, when they joined him in 1970 on his "Cry of Love" tour. Ballin' Jack scored modest mainstream success with their single "Super Highway", peaking at #90 on the US Billboard Singles chart. Hip Hop fans will recognize Ballin' Jack for a different reason. The song "Found A Child" was famously sampled for Young MC's enormous hit "Bust A Move".
Tracks:
-------
Ballin' Jack 1970
1. Found A Child (Jim Walters, Luther Rabb) - 2:50
2. Super Highway (Jim Walters) - 2:43
3. Festival (Jim Walters, Luther Rabb) - 4:31
4. Telephone (Jim Walters) - 2:09
5. Only A Tear - 2:11
6. Never Let 'Em Say - 2:45
7. Street People (Jim Walters, Luther Rabb) - 2:00
8. Carnival (Ballin' Jack) - 6:13
9. Ballin' The Jack (Chris Smith, Jim Burris) - 1:54
10.Hold On - 6:43
Buzzard Luck 1972
11.So Do I (Glenn Thomas, Luther Rabb) - 5:03
12.Good Man - 2:37
13.(Come 'Round Here) I'm The One You Need (Brian Holland, Edward Holland, Jr., Lamont Dozier) - 3:38
14.Stay Awhile - 3:08
15.Trouble (Ronnie Hammon) - 3:31
16.Telling Lies (Jim Walters, Luther Rabb) - 3:45
17.Country Pine (Glenn Thomas, Luther Rabb) - 3:54
18.Playin' The Game - 2:26
19.You And Me (Jim Walters, Luther Rabb) - 3:10
20.Bye,Bye,Bye (Jim Walters, Luther Rabb) - 5:58

Personnel:
------
Jim Coile - Saxophone, Flute, Clarinet, Backing Vocals
Ronnie Hammon - Drums, Percussion, Backing Vocals
Tim McFarland - Trombone, Piano, Backing Vocals
Luther Rabb - Bass
Glenn Thomas - Guitar
Jim Walters - Trumpet, Flugelhorn, Lead Vocals

All thanks to original releaser

Внимание! У Вас нет прав для просмотра скрытого текста.