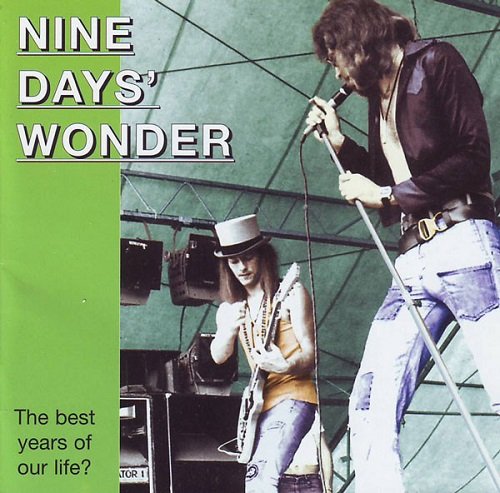 Artist: Nine Days' Wonder
Title Of Album: The Best Years Of Our Life
Year Of Release: 1971-75/2001
Label (Catalog#) : Garden Of Delights [CD 057]
Country: Germany
Genre: Krautrock, Heavy Prog Rock
Quality: FLAC (tracks+cue,log,scans)
Bitrate: Lossless
Total Time: 01:05:02
Total Size: 380Mb
Nine Days' Wonder biography
Formed as far back as 66, this group recorded their wild debut album (between Zappa, Soft Machine, Crimson and Purple, if you can picture that!!) as a fairly international quintet (4 different nationalities between the five of them) before breaking up the following year, with their sax player, John Earle joining Gnidrolog for their classic Lady Lake. Singer-drummer Seyffer then joined the group Medusa, which soon became the second line-up of NDW and by the start of 73, they were recording their We Never Lost Control, which was more conventional prog (Nektar comes to mind). NDW stayed a very unstable unit with their straight rock album Only The Dancer recorded as a quartet in England and on which VdGG's Jackson guests on a few tracks. The group's last album Sonnet To Billy Frost was a press-dismissed British-sounding rock opera.progarchives.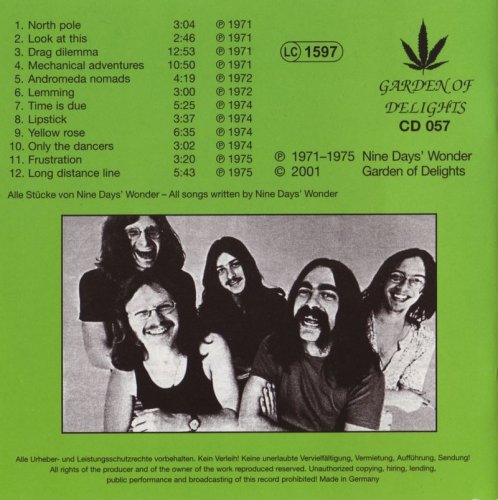 Tracks:
-------
01. North Pole (2:47)
02. Look At This (3:07)
03. Drag Dilemma (12:54)
04. Mechanical Adventures (10:55)
05. Andromeda Nomads (4:31)
06. Lemming (2:58)
07. Time Is Due (5:27)
08. Lipstick (3:38)
09. Yellow Rose (6:35)
10. Only The Dancers (3:03)
11. Frustration (3:24)
12. Long Distance Line (5:44)

Personnel:
---------
Walter Seyffer / vocals, drums, percussion
Rolf Henning / guitar, piano
Karl Mutschlechner / bass
John Earle / vocals, saxophon, flute, guitar
Martin Roscoe / drums
Hans Frauenschuh / guitar
Michael Bundt / bass
Freddie Münster / saxophon, keyboards
Karl-Heinz "Hyazintus" Weiler / drums
Sidhatta Gautama / drums
Steve Robinson / keyboards
Dave Jackson / sax
Rainer Saam / bass

All thanks to original releaser
Внимание! У Вас нет прав для просмотра скрытого текста.