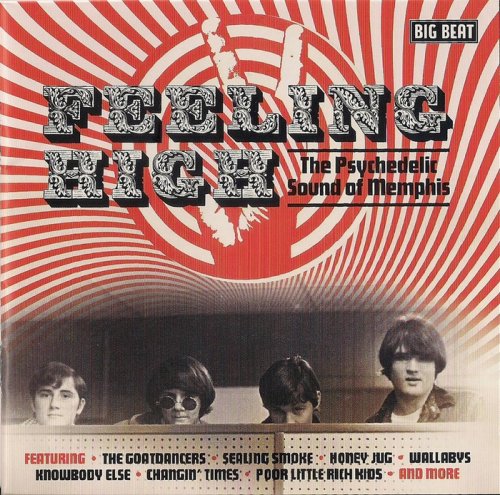 Artist: VA
Title Of Album: Feeling High The Psychedelic Sound Of Memphis
Year Of Release: 1967-69/2012
Label (Catalog#) : Big Beat [CDWIKD 311]
Country: USA
Genre: Psychedelic Garage Rock
Quality: FLAC (*tracks + cue,log,scans)
Bitrate: Lossless
Total Time: 01:18:36
Total Size: 517Mb
AllMusic Review by Steve Leggett
Memphis is known for its distinctive blues sound and its fiery soul music, and, of course, as the place where Elvis Presley first put rock & roll on the commercial map and the world's radar. This fun and fascinating collection sheds light on another part of Memphis' musical heritage, the seldom-heard psychedelic garage bands from Tennessee, Arkansas, and Mississippi who tracked there in the late '60s and early '70s. Every region in the U.S. had bands like the ones presented here, but what makes these rare tracks a little different is the clarity and professionalism of the actual recordings. Memphis had a well-established studio system by then, and there were young producers and engineers like Jim Dickinson and James Parks working at these studios who knew what to do with fringe rock bands. Nothing here was anything more than maybe a regional hit and nothing here changed the course of rock & roll any, but these are fun, clear, and intriguing productions. Among the highlights are the Honey Jug's echoing, cavernous-on-cough-syrup-sounding version of the Yardbirds' "For Your Love," the Wallabys' sitar-filled "Holy Days," an almost prog rock take on the Beatles' "Ticket to Ride" by Mother Roses, and the Goatdancers' "We're in Town," a bit of sunshine pop gone weird. Then there's a live "Flying Horse of Louisiana" from a band called the Knowbody Else -- who became Black Oak Arkansas a little farther on down the road.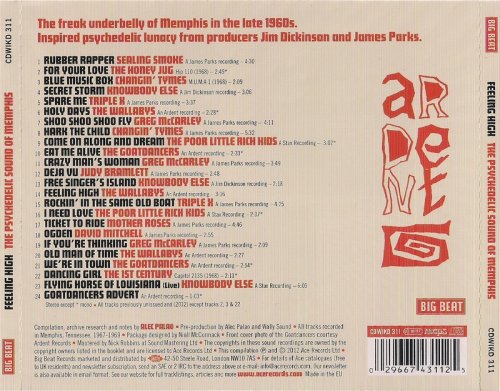 Tracks:
-------
1. Sealing Smoke - Rubber Rapper - 4:30
2. The Honey Jug - For Your Love - 2:49
3. The Changin' Tymes - Blue Music Box - 2:09
4. The Knowbody Else - Secret Storm - 3:06
5. Triple X - Spare Me - 3:37
6. The Wallabies - Holy Days - 2:28
7. Greg McCarley - Shoo Shoo Shoo Fly - 4:11
8. The Changin' Tymes - Hark the Child - 5:32
9. Poor Little Rich Kids - Come on Along and Dream - 3:02
10.The Goatdancers - Eat Me Alive - 2:33
11.Greg McCarley - Crazy Man's Woman - 3:49
12.Judy Bramlett - Deja Vu - 2:48
13.The Knowbody Else - Free Singer's Island - 2:18
14.The Wallabies - Feeling High - 3:16
15.Triple X - Rockin' in the Same Old Boat - 4:25
16.Poor Little Rich Kids - I Need Love - 2:37
17.Mother Roses - Ticket to Ride - 4:46
18.David Mitchell - Ogden - 2:55
19.Greg McCarley - If You're Thinking - 2:09
20.The Wallabies - Old Man of Time - 2:27
21.The Goatdancers - We're in Town - 2:54
22.1st Century - Dancing Girl - 2:11
23.The Knowbody Else - Flying Horse of Louisiana (Live) - 6:05
24.The Goatdancers Advert - 1:03

All thanks to original releaser
Внимание! У Вас нет прав для просмотра скрытого текста.