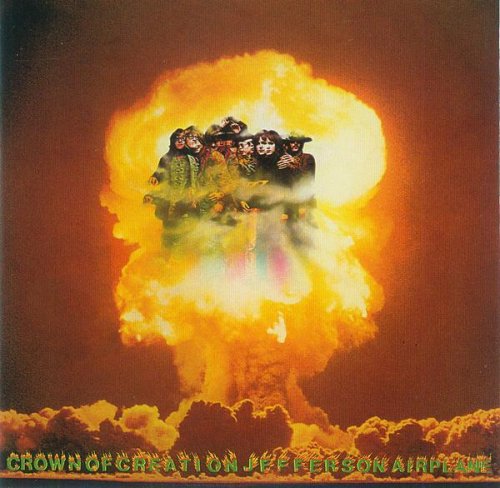 Artist: Jefferson Airplane
Title Of Album Crown Of Creation
Year Of Release:1968/2003
Label (Catalog#) : RCA / BMG Heritage [82876 53226 2]
Country: USA
Genre: Psych Rock
Quality: FLAC (*image + .cue,log,scans)
Bitrate: Lossless
Total Time: 56:23
Total Size: 321Mb
Crown of Creation is the fourth studio album by the San Francisco psychedelic rock band Jefferson Airplane, and was released by RCA Victor in September 1968. It saw the band continuing their development of psychedelic music from their previous album, After Bathing at Baxter's.

While failing to eclipse Surrealistic Pillow (1967) from a commercial standpoint, the album was a considerable success in comparison to its immediate predecessor, peaking at No. 6 on the Billboard Pop Charts and earning a RIAA gold certification. Its two singles ("Greasy Heart", released in April 1968, followed by the title track in November) were modest hits on the Hot 100 chart. It was voted number 591 in Colin Larkin's All Time Top 1000 Albums 3rd Edition (2000).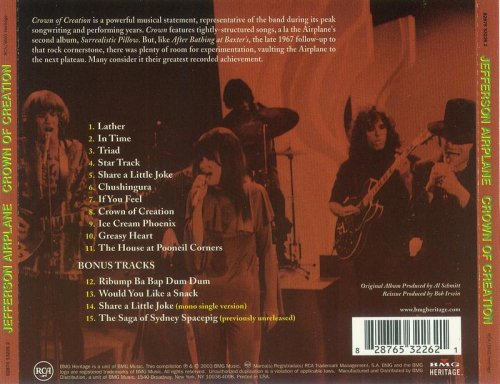 Tracks:
-------
1. Lather (Grace Slick) - 2:56
2. In Time (Marty Balin, Paul Kantner) - 4:10
3. Triad (David Crosby) - 4:54
4. Star Track (Jorma Kaukonen) - 3:09
5. Share A Little Joke (Marty Balin) - 3:06
6. Chushingura (Spencer Dryden) - 1:17
7. If You Feel (Gary Blackman, Marty Balin) - 3:20
8. Crown Of Creation (Paul Kantner) - 2:53
9. Ice Cream Phoenix (Charles Cockey, Jorma Kaukonen) - 3:00
10.Greasy Heary (Grace Slick) - 3:25
11.The House At Pooneil Corners (Marty Balin, Paul Kantner) - 5:51
Bonus Tracks
12.Ribump Ba Bap Dum Dum (Spencer Dryden, William Goodwin) - 1:32
13.Would You Like A Snack (Grace Slick, Frank Zappa) - 2:40
14.Share A Little Joke (Mono Single Version) (Marty Balin) - 3:09
15.The Saga Of Sydney Spacepig (Spencer Dryden) - 10:30


Personnel:
-----
Marty Balin - Vocals, Rhythm Guitar
Grace Slick - Vocals, Piano, Organ
Paul Kantner - Rhythm Guitar, Vocals
Jorma Kaukonen - Lead Guitar, Electric Chicken, Vocals
Spencer Dryden - Drums, Piano, Organ, Steel Balls, Vocals
Jack Casady - Yggdrasil Bass
---------------------------
Arthur Tripp - Percussion
Gary Blackman - Nose Solo
Charles Cockey - Guitar, Vocals
David Crosby - Guitar
Bill Goodwin - Talking Drums
Dan Woody - Bongos, Drums
William Goodwin - Drums (Tr.12)
Timothy Davis - Drums
Gene Twombly - Sound Effects
Art Tripp - Percussion (Tr.13)
Don Preston - Keyboards (Tr.13)
Frank Zappa - Guitar, Vocals (Tr.13)
Ian Underwood - Woodwind (Tr.13)

All thanks to original releaser
Внимание! У Вас нет прав для просмотра скрытого текста.