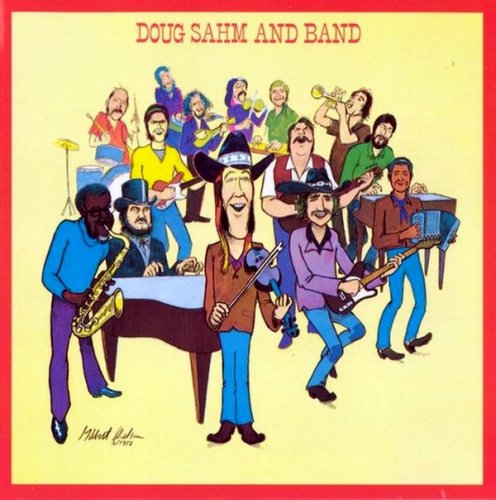 Artist: Doug Sahm
Title Of Album: Doug Sahm And Band
Year Of Release: 1973
Label (Catalog#) Edsel [ED CD 154]
Country: USA
Genre: Country Rock, Folk Blues Rock
Bitrate: Lossless
Quality: FLAC (tracks+cue,log,covers)
Total Time: 44:46
Total Size: 276Mb
Doug Sahm and Band is the debut solo album of American singer-songwriter Doug Sahm. In 1972, after leaving the Sir Douglas Quintet, Sahm moved to Austin, Texas. He was signed by Jerry Wexler to the newly opened country music division of Atlantic Records, and started the album sessions by October 1972. It featured appearances by Bob Dylan, Dr. John, David "Fathead" Newman, Flaco Jimenez, David Bromberg and Kenny Kosek.
Tracks:
-------
1. (Is anybody Going to) San Antone (Dave Kirby, Glen Martin) - 3:10
2. It's Gonna Be Easy (Atwood Allen) - 3:31
3. Your Friends (Deadric Malone) - 5:23
4. Poison Love (Elmer Laird) - 4:21
5. Wallflower (Bob Dylan) - 2:39
6. Dealer's Blues (Doug Sahm) - 2:58
7. Faded Love (B. Wills, J. Wills) - 3:55
8. Blues Stay Away From Me (A. Delmore, H. Glover, R. Delmore, W. Raney) - 4:48
9. Papa Ain't Salty (Grover McDaniel, T-Bone Walker) - 4:30
10.Me And Paul (Willie Nelson) - 3:34
11.Don't Turn Around (Doug Sahm) - 3:28
12.I Get Off (Doug Sahm) - 2:39

Personnel:
---------
Doug Sahm - Vocals, Guitar, Harp, Fiddle, Bass, Organ, Piano
Bob Dylan - Vocals, Guitar, Harp
Dr. John - Organ
Ken Kosek - Fiddle
Charlie Owens - Steel Guitar
Willie Bridges - Baritone Saxophone
Arif Mardin - Electric Piano
David "Fathead" Newman - Tenor Saxophone
Wayne Jackson - Trumpet
Flaco Jimenez Harmony - Accordion
Atwood - Vocals
Andy Statman - Mandolin
Augie Meyer - Piano
David Bromberg - Dobro Guitar
Jack Walrath, Martin Fierro, Mel Martin - Horns
George Rains - Drums

All thanks to original releaser
Внимание! У Вас нет прав для просмотра скрытого текста.