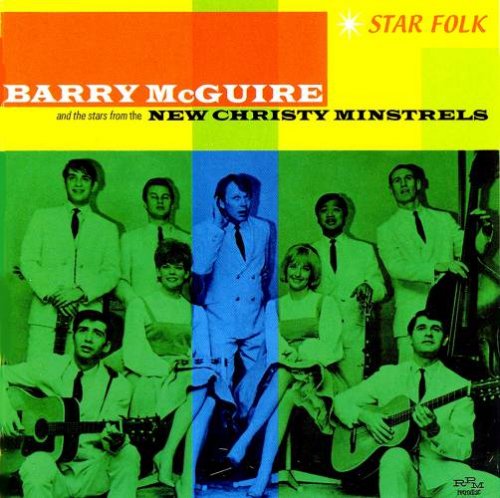 Artist: Barry McGuire
Title Of Album: Star Folk
Year Of Release: 1963/2007
Label (Catalog#) : RPM [Retro 806]
Country: USA
Genre: Folk Rock,
Quality: FLAC (image+cue,log)
Bitrate: Lossless
Total Time: 59:09
Total Size: 276Mb(+3%)(covers)
First time on CD for this collection of early Folk recordings from Barry 'Eve Of Destruction' McGuire and other members of The New Christy Minstrels, originally recorded in 1963 for the Horizon label, a short lived American Folk label whose most prominent artist at the time was Hoyt Axton. McGuire recorded a number of tracks for the label in the company of Karen Gunderson , Art Podell, Paul Potash, Barry Kane, all members of the New Christy Minstrels. These were collected together as Star Folk volumes 1 and 2 . The material is for the most part originals by McGuire and his contemporaries such as Hoyt Axton, Art Podell, Rod McKuen. These classic American Folk recordings have not been available since the mid '60s and include many standout recordings including 'Greenback Dollar', 'Town And Country' and 'So Long Stay Well'. 24 tracks. RPM.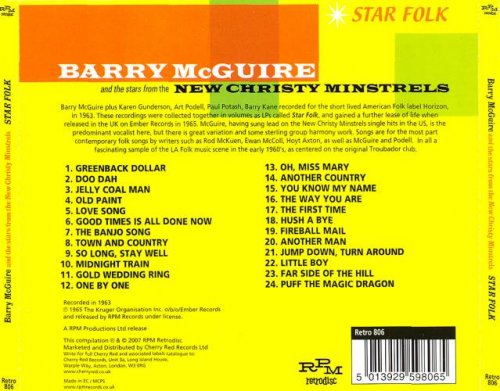 Tracks:
-------
1. Greenback Dollar (Axton, Ramsey) - 2:29
2. Doo Dah (McGuire, McKuen) - 2:12
3. Jelly Coal (Man Freeman, Roberts) - 2:04
4. Old Paint 2:23
5. Love Song (Williams) - 2:35
6. Good Times Is All Done Now (McGuire, McKuen) - 3:13
7. The Banjo Song (Ross) - 2:01
8. Town and Country (McKuen, Podell) - 2:01
9. So Long, Stay Well (McKuen) - 1:46
10.Midnight Train (Helma, Scherr) - 2:29
11.Gold Wedding Ring (Lee, Sukman) - 2:19
12.One by One (McKuen) - 2:23
13.Oh, Miss Mary (Phillips, Stewart) - 2:37
14.Another Country (McGuire, McKuen) - 1:58
15.You Know My Name (Podell, Scherr) - 2:56
16.The Way You Are (McKuen) - 2:23
17.The First Time (McColl) - 3:49
18.Hush a Bye 2:23
19.Fireball Mail (Kene, McGuire) - 1:25
20.Another Man 1:48
21.Jump Down, Turn Around 2:54
22.Little Boy (Settle) - 2:19
23.Far Side of the Hill (Arnold) - 3:42
24.Puff the Magic Dragon (Yarrow) - 2:46

Personnel:
---------
Randy Sparks - Guitar, Vocals
Art Podell - Guitar, Vocals
Barry McGuire - Vocals, Guitar
Barry Kane - Vocals
Nick Woods - Guitar
Larry Ramos - Banjo, Vocals
Clarence Treat - Upright Bass
Dolan Ellis - Vocals
Jackie Miller - Vocals, Guitar
Gail Caldwell - Vocals

All thanks to original releaser
Внимание! У Вас нет прав для просмотра скрытого текста.