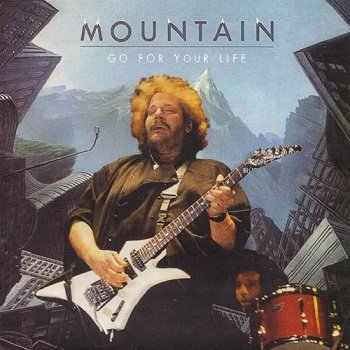 Artist:
Mountain
Title Of Album:
Go For Your Life
Release Date:
2008 (1985)
Location:
USA
Label:
Acadia Records (ACAM 8195)
Genre:
Hard Rock, Blues-Rock
Quality:
FLAC (tracks+.cue+covers)
Length:
34:05 min
Tracks:
9
Total Size:
269 MB (+5%)
Go for Your Life is a studio album released in 1985 by Mountain. It was the first Mountain album to not feature production or performance from Felix Pappalardi, who had been shot and killed by his wife Gail Collins in 1983. The album's closing track, "Little Bit of Insanity", was dedicated to Pappalardi's memory, and the album cover artwork was also designed with the fallen bassist/producer in mind. "What we wanted to do was give the feeling of someone looking up from their grave. And you can tell that's exactly what's going on with the image we used," said Leslie West in 2013. The album features bassist Mark Clarke, who had been a member of Uriah Heep, Colosseum and Rainbow, and was produced by Pete Solley, who had worked with a diverse range of artists including The Rolling Stones, Oingo Boingo and The Allman Brothers Band. It charted at #166 in the US charts when released in March 1985.
Tracklist:
01. Hard Times (4:28)
02. Spark (3:43)
03. She Loves Her Rock (And She Loves It Hard) (3:47)
04. Bardot Damage (4:05)
05. Shimmy On the Footlights (4:21)
06. I Love Young Girls (3:12)
07. Makin' It in Your Car (3:10)
08. Babe in the Woods (4:42)
09. Little Bit of Insanity (2:37)
Band:

Leslie West - guitar
Corky Laing - drums
Mark Clarke - bass
Chuck Kirkpatrick - background vocals
Written By – Bud Prager, Corky Laing, Leslie West
Password:
morpeh
Внимание! У Вас нет прав для просмотра скрытого текста.
Изменил: MuatDip21 по причине: re-up