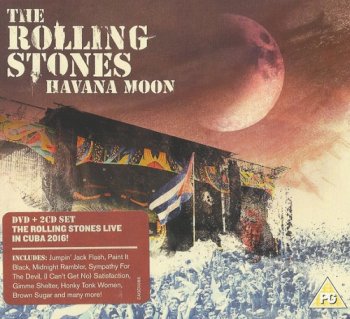 Artist:
The Rolling Stones
Title Of Album:
Havana Moon
Release Date:
2016
Location:
England
Label:
Eagle Vision (EAGDV065)
Genre:
Classic Rock, Blues-Rock
Quality:
FLAC (image+.cue+covers)
Length:
63:57 / 55:19 min
Tracks:
18 (2CD)
Total Size:
902 MB (+5%)
Havana Moon is a concert film by the Rolling Stones, directed by Paul Dugdale. Havana Moon was filmed on 25 March 2016 in Havana, Cuba. The film is a recording of a free outdoor concert put on by the band at the Ciudad Deportiva de la Habana sports complex, which was attended by an estimated 500,000 concert-goers. The concert marked the first time a rock band had performed in Cuba to such a large crowd, breaking the previous record of the italian singer Zucchero Fornaciari who performed to a crowd of nearly 70,000 goers in 2012. On 11 November 2016 the film was released in multiple formats.
Tracklist:
CD 1:
01. Jumpin' Jack Flash (4:46)
02. It's Only Rock 'n' Roll (But I Like It) (4:35)
03. Tumbling Dice (5:03)
04. Out Of Control (7:13)
05. All Down The Line (5:22)
06. Angie (3:29)
07. Paint It Black (5:32)
08. Honky Tonk Women (4:57)
09. You Got The Silver (3:29)
10. Before They Make Me Run (4:02)
11. Midnight Rambler (15:29)
CD 2:
01. Miss You (8:20)
02. Gimme Shelter (8:05)
03. Start Me Up (4:21)
04. Sympathy For The Devil (7:55)
05. Brown Sugar (7:13)
06. You Can't Always Get What You Want (8:57)
07. (I Can't Get No) Satisfaction (10:28)
Password:
morpeh
Внимание! У Вас нет прав для просмотра скрытого текста.
Изменил: MuatDip21 по причине: re-up