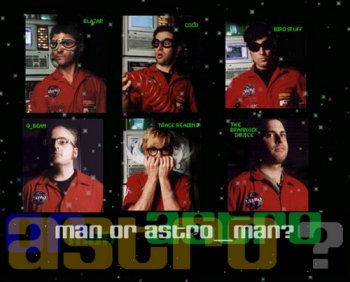 Artist: Man or Astro-man?
Title Of Album: Discography
Year Of Release: 1993-2013
Label: Estrus/Au Go Go/One Louder/Touch and Go/Sympathy for the Record Industry
Country: United States
Genre: Surf Rock, Indie Rock, Space Rock, Garage Rock, Psychedelic Rock
Quality: Mp3 / FLAC (tracks +.cue,log)
Bitrate: CBR 320 kbps / Lossless
Time: 9:10:01
Full Size: 3.36 gb
Upload: Turbobit
Man or Astro-man? is a surf rock group that formed in Auburn, Alabama, in the early 1990s and came to prominence over the following decade.

Primarily instrumental, Man or Astro-man? blended the surf rock style of the early 1960s like that of Dick Dale and The Spotnicks with the new wave and punk rock sounds of the late 1970s and early 1980s. Man or Astro-man? was known for their anachronistic dedication to science fiction themes, audio samples, obscure electronic devices (such as theremins and tesla coils), and high-energy live performances. Their earlier albums like Is It ... Man or Astroman? and Destroy All Astromen! were known for their traditional surf rock instrumentation and sci-fi sound bite song introductions, but their later albums like EEVIAC... and A Spectrum of Infinite Scale were known for their use of synthesizers, printers (like the Apple ImageWriter II), and their more abstract, experimental sound. Their recordings were often peppered with sound bites from obscure science fiction films and TV shows.

It's largely believed the group took its name from the poster of the U.S. release of the Japanese film The Human Vapor,[citation needed] which includes the tagline "IS HE MAN OR ASTRO-MAN?", the line seemingly appropriated as the title of their first album, Is It ... Man or Astroman?.
1993 - Is It Man or Astro-Man
1994 - Destroy All Astromen
1994 - Your Weight On The Moon EP
1995 - Intravenous Television Continuum
1995 - Project Infinty
1995 - What Remains Inside A Black Hole
1996 - Deluxe Men in Space EP
1996 - Experiment Zero
1997 - 1000x EP
1997 - Made From Technetium
1999 - EEVIAC
2000 - A Spectrum of Finite Scale
2001 - A Spectrum of Infinite Scale
2001 - Beyond the Black Hole
2013 - Defcon 5...4...3...2...1
:: DOWNLOAD LINK ::
Внимание! У Вас нет прав для просмотра скрытого текста.
:: MusicMuss ::
Изменил: artmuss по причине: Re-Up