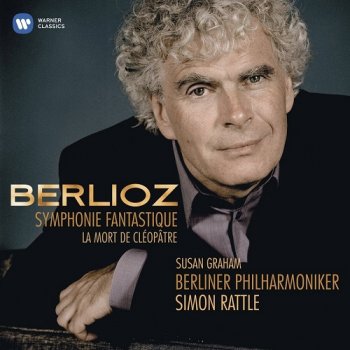 Artist: Berliner Philharmoniker & Sir Simon Rattle
Title Of Album: Berlioz: Symphonie Fantastique; La mort de Cleopatre
Year Of Release: 2008
Label: EMI Japan
Genre: Classical
Quality: FLAC (tracks,cue,log)
Bitrate: Lossless
Time: 1:15:59
Full Size: 250 mb
Upload: Turbobit / HitFile
Staggeringly well performed and recorded, this 2008 EMI disc of Berlioz's Symphonie fantastique performed by the Berliner Philharmoniker under Simon Rattle is highly entertaining. Over and over again, the listener is impressed by the super virtuoso playing of the Berlin musicians by the way they blend and contrast in the opening movement, sparkle and shine in the waltz, murmur in the pastoral, roar in the march, and howl in closing fugue. Similarly, Rattle's masterful control of the music and the musicians and the way he creates satisfyingly effective climaxes is also quite remarkable. Captured in "in-your-face" digital sound by EMI that puts the Berlin right in front of the listener, this all makes for a very appealing performance of a standard repertoire work. When coupled with Berlioz's far less groundbreaking but only slightly less attractive La mort de Cléopâtre sung with incredibly intensity and consummate musicality by mezzo-soprano Susan Graham, this will no doubt be the first choice for many listeners coming to the works for the first time. Old timers, of course, will already have their favorite performances of both, and to them, these performances may seem glib and superficial compared with the classic performances of Beecham, Davis, Cluytens, Monteux, and Münch in the Symphonie and of Baker and Tourel in La mort de Cléopâtre. But this argument may just seem like older listeners pulling rank on younger listeners and does nothing to detract from their enjoyment of the present disc.
::TRACKLISTING::
1. I. Reveries - Passions
2. II. Un bal
3. III. Scène aux champs
4. IV. Marche au supplice
5. V. Songe d'une nuit du Sabbat
6. Scène lyrique
7. Méditation
:: DOWNLOAD LINKS ::
Внимание! У Вас нет прав для просмотра скрытого текста.
:: MusicMuss ::