Chase: 3 Albums Mini LP Blu-spec CD
Sony Music Japan 2012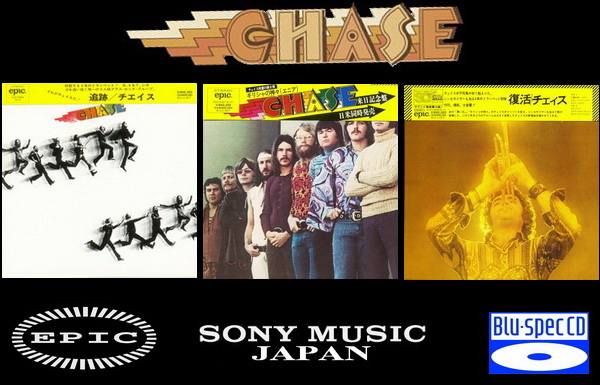 Performer:
Chase
Albums:
1971 Chase
●
1972 Ennea
●
1974 Pure Music
Info:
Epic Records / Sony Music Japan
Cardboard Sleeve (Mini LP / [Blu-spec CD / Limited Release
Catalog CDs: EICP-20086 ● EICP-20087 ● EICP-20088
Made in Japan
Dynamic Range:
8 / 8 / 7
Genre / Style:
Rock / Jazz Rock / Brass Rock / Fusion
Released Year:
2012
Format:
FLAC / Level 8 (img + *cue / *cue with ISRC + EAC log, AccurateRip)
BitRate:
lossless
Covers:
format PNG 600dpi/300dpi (booklets), full scans
Size:
• • • • • • • • • • • • • • • • • • • • • • • • • • • • • • • •
Каждый альбом можно скачать отдельно
Each album can be downloaded separately
• • • • • • • • • • • • • • • • • • • • • • • • • • • • • • • •
Upload:

(3% восстановление)
cdjapan.co.jp
Cardboard sleeve (mini LP) reissue from Chase featuring the high-fidelity Blu-spec CD format (compatible with standard CD players) and the latest remastering. Comes with an obi reprint, a new description, and lyrics. Part of a three-album Chase Blu-spec CD cardboard sleeve reissue series featuring albums "Chase," "Ennea," and "Pure Music."
en.wikipedia.org
The band Chase was created in 1970 by Bill Chase, Ted Piercefield, Alan Ware, and Jerry Van Blair, all veteran jazz trumpeters who were also adept at vocals and arranging. They were backed up by a rhythm section consisting of Phil Porter on keyboards, Angel South (b. Lucian Gondron) on guitar, Dennis Johnson on bass, and Jay Burrid (b. Jay Mitthauer) on percussion. Rounding out the group was Terry Richards, who was featured as lead vocalist on the first album. In April 1971, the band released their debut album, Chase, which contains Chase's best-known song, "Get It On", released as a single that spent 13 weeks on the charts beginning in May 1971. The song features what Jim Szantor of Downbeat magazine called "the hallmark of the Chase brass-complex cascading lines; a literal waterfall of trumpet timbre and technique". The band received a Best New Artist Grammy nomination, but was edged out by rising star Carly Simon. Chase released their second album, Ennea, in March 1972; the album's title is the Greek word for nine, a reference to the nine band members. The original lineup changed midway through the recording sessions, with Gary Smith taking over on drums and G. G. Shinn replacing Terry Richards on lead vocals. Although the first Chase album sold nearly 400,000 copies, Ennea was not as well received by the public. One likely reason was a shift away from trumpet sections. As Bill Chase put it in a Downbeat interview, "I don't want people to be heavily conscious of a trumpet section. They should just hear good things, but not be clobbered over the head with brass." A single, "So Many People", received some radio play, but the side-two-filling "Ennea" suite, with its tightly chorded jazz arrangements and lyrics based on Greek mythology, was less radio-friendly. Following an extended hiatus, Chase reemerged early in 1974 with the release of Pure Music, their third album. Featuring a new lineup, yet keeping the four-trumpet section headed by Bill Chase, the group moved further from the rock idiom, and became more focused on jazz. Variety magazine called Pure Music "probably Chase's most commercial effort, and their brand of jazz could have a commercial impact". The songs were written by Jim Peterik of the Ides of March, who also sings on two songs on the album, backing up singer and bassist Dartanyan Brown. Chase's work on a fourth studio album in mid-1974 came to an end on August 9, 1974. While en route to a scheduled performance at the Jackson County Fair in Minnesota, Bill Chase died at the age of 39 in the plane crash of a chartered twin-engine Piper Twin Comanche in Jackson, Minnesota. Also killed, along with the pilot and a female companion, were keyboardist Wally Yohn, drummer Walter Clark, and guitarist John Emma. In 1977 a Chase tribute band (composed primarily of the original lineup, and added Walt Johnson) recorded an album entitled Watch Closely Now.
------------------
Билла Чейза сейчас помнят в основном те, был поклонником раннего джаз-рока в начале 70-х годов. В наше время его имя незаслуженно забыто, несмотря на то, что он был в свое время не менее популярен, чем многие известные до сих пор первопроходцы новой тогда музыки, которую называют еще таким термином как "White Brass-rock". И, действительно, это был "белый брасс-рок", а, говоря по-русски, белая рок-группа ( то есть ансамбль с вокалистами, с бас-гитарой, электро-гитарой и клавишными) плюс секция духовых инструментов. Его группа "Chase" появилась вслед за "классиками" этого жанра - группами "Chicago" и "Blood, Sweat & Tears", у которых появилось масса последователей по всем странам. Но "Chase" была совсем непохожа на них своим звучанием. Дело в том, Билл Чейз рискнул сделать секцию духовых инструментов состоящей не из трубы, саксофона и тромбона, которые могли звучать в очень широком диапазоне, давая аранжировщику возможность большого тембрового разнообразия, - а из четырех труб, из четырех одинаковых инструментов, звучащих только в высоких регистрах. При таком подборе инструментов необходимо было найти особые методы оркестровки, чтобы выжать все из специфики такой, высоко звучащей медной группы. Это удалось Биллу Чейзу, который был не только блестящим трубачем, а и прекрасным аранжировщиком. Ему посчастливилось создать свой неповторимый «саунд», что бывает крайне редко. За короткий срок существования группы уже наметился путь дальнейшего развития ее стиля. И неизвестно, что бы придумал в дальнейшем Билл Чейз, если бы не трагедия. 9-го августа 1974 года группа, работавшая в Чикаго, должна была перебраться в Миннесоту. Билл Чейз с двумя музыкантами полетел туда отдельно от остального коллектива. Самолет, котором они летели, разбился на подлете к аэродрому. Биллу было всего 39 лет. Его гибель была ощутимым уроном для американской популярной сцены того времени. Вскоре вышли мемориальные издания в память о Билле Чейзе. Были и другие альбомы, где старые друзья Билла отдавали ему должное уважение. Позже близкие к нему музыканты вспоминали, что Билл настолько был увлечен качеством звукоизвлечения из своего инструмента, что постоянно, даже сразу после окончания записи или концерта брал мундштук и продолжал «жужжать» на нем, поддерживая форму губ. Во время переездов в автобусе с биг бэндом, его обычно отсаживали на последний ряд, чтобы не слышать постоянного звука жужжащего мундштука. Он считался одним из лучших «свистунов» ( специалистов по самым верхним нотам) в среде оркестровых музыкантов. Это признавал даже сам Майнард Фергюсон. Так что имя легендарного зачинателя брасс-рока Билла Чейза не забыто.
Rip by ALLexxess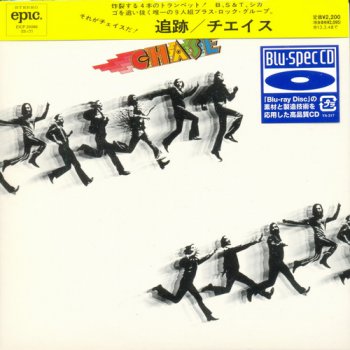 1971 Chase
01 Open Up Wide
02 Livin' In Heat
03 Hello Groceries
04 Handbags And Gladrags
05 Get It On
06 Boys And Girls Together
07 Invitation To A River
a. Two Minds Meet
b. Stay
c. Paint It Sad
d. Reflections
e. River
EAC log - AccurateRip
auCDtect
Spectrum / Matrix
Внимание! У Вас нет прав для просмотра скрытого текста.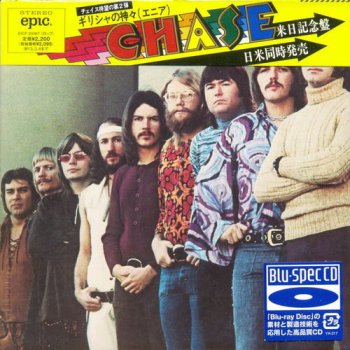 1972 Ennea
01 Swanee River
02 So Many People
03 Night
04 It Won't Be Long
05 I Can Feel It
06 Woman Of The Dark
Ennea
07 Cronus (Saturn)
08 Zeus (Jupiter)
09 Poseidon (Neptune)
10 Aphrodite Part I (Venus)
11 Aphrodite Part II (Venus)
12 Hades (Pluto)
EAC log - AccurateRip
auCDtect
Spectrum / Matrix
Внимание! У Вас нет прав для просмотра скрытого текста.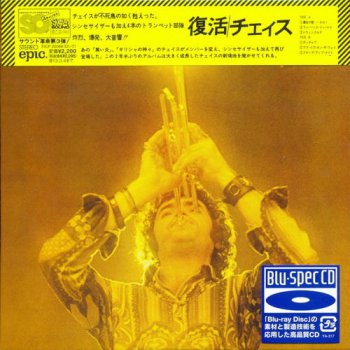 1974 Pure Music
01 Weird Song #1
02 Run Back To Mama
03 Twinkles
04 Bochawa
05 Love Is On The Way
06 Close Up Tight
EAC log - AccurateRip
auCDtect
CDDA / Spectrum CDDA / Spectrum MPEG / Spectrum / Matrix
Внимание! У Вас нет прав для просмотра скрытого текста.
Изменил: petruha по причине: RE-UP