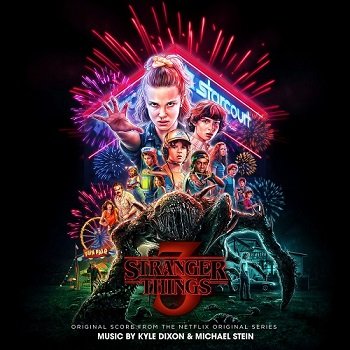 Artist:
Kyle Dixon & Michael Stein
Title Of Album:
Stranger Things: Season 3
Release Date:
2019
Location:
USA
Label:
Lakeshore Records (LKS35464)
Genre:
Score
Quality:
FLAC (tracks+.cue)
Length:
01:45:22 min
Tracks:
41
Total Size:
332 MB (+5%)
The original soundtrack album for the third season of the Netflix series Stranger Things, titled Stranger Things 3, was released digitally on June 28, 2019, via Lakeshore and Invada Records. Like the previous two seasons, the soundtrack was composed by Kyle Dixon and Michael Stein of the electronic band Survive. The album was also released on physical formats such as CD, vinyl, and cassette.
Tracklist:
01. Boys and Girls (1:49)
02. I Like Presents Too (1:27)
03. Starcourt (3:05)
04. Blank Makes You Crazy (1:07)
05. I Need You to Trust Me (1:21)
06. You're a Fighter (4:21)
07. The Ceiling Is Beautiful (2:51)
08. The First I love You (2:26)
09. Rats (4:36)
10. What Did You Do To Him? (2:07)
11. Find the Source (1:18)
12. The Silver Cat Feeds (1:12)
13. Heather's (1:39)
14. William (2:12)
15. Destroying the Castle (1:49)
16. In the Void (1:29)
17. Tammy (3:01)
18. Mirkwood (2:39)
19. Portal Drill (1:48)
20. Happy Screams (1:25)
21. Ruins (2:02)
22. It's Just Ice (4:01)
23. The Door Is Opening (1:19)
24. Planck's Constant (1:20)
25. She's Gone Home (0:39)
26. Seven Feet (1:54)
27. The Week Is Long (2:11)
28. Sauna Test (1:00)
29. Six Facts (2:04)
30. The Trees Are Moving (1:16)
31. On Their Tracks (0:42)
32. Not Chinese Food (1:49)
33. Blueprints (2:11)
34. Land Deeds (1:09)
35. Not Kids Anymore (0:52)
36. Code Red (2:04)
37. Feel Safe (2:18)
38. He's Here (2:36)
39. Scoops Troop (1:46)
40. We Don't Understand Each Other (2:48)
41. Aftermath (3:06)
Password:
morpeh
Download