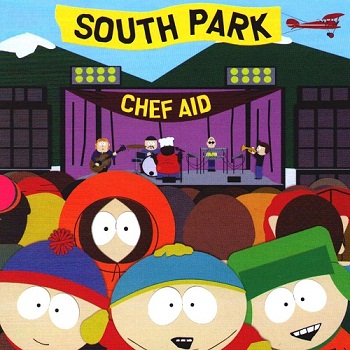 Artist:
VA
Title Of Album:
Chef Aid: The South Park Album (Extreme Version)
Release Date:
1998
Location:
USA
Label:
American Recordings
Genre:
Rock, Breakbeat, Gangsta, Grunge, Soundtrack
Quality:
FLAC (tracks+.cue)
Length:
01:17:37 min
Tracks:
21
Total Size:
570 MB (+5%)
Chef Aid: The South Park Album is a 1998 soundtrack/compilation album based on the American animated comedy series South Park. Several well-known artists perform on the record, which was mainly produced by Rick Rubin. Chef Aid contains a number of songs from and inspired by the show, while other songs are largely independent from South Park. The album was released during the show's second season, shortly after the broadcast of the episode called "Chef Aid", which features many of the stars and songs that appear on the recording. Soul singer Isaac Hayes appears in character as Chef throughout the album, which mimicks a live concert.
Tracklist:
01. South Park Theme (0:40) Performed by Primus
02. Nowhere To Run (4:40) Performed by Ozzy Osbourne, DMX & 'Ol Dirty Bastard
03. Chocolate Salty Balls (P.S. I Love You) (3:56) Performed by Chef
04. Brad Logan (2:17) Performed by Rancid
05. Come Sail Away (5:13) Performed by Eric Cartman
06. Kenny's Dead (3:25) Performed by Master P
07. Simultaneous (3:17) Performed by Chef
08. Will They Die 4 You (3:53) Performed by Mase, Puffy, Lil' Kim & System Of A Down
09. Hot Lava (3:51) Performed by Perry Farrell & D.V.D.A.
10. Bubblegoose (2:53) Performed by Wyclef Jean Featuring Stan, Kyle, Cartman, & Kenny
11. No Substitute (4:47) Performed by Chef
12. Wake Up Wendy (5:59) Performed by Elton John
13. Horny (3:31) Performed by Mousse T. Vs. Hot 'N' Juicy
14. Huboon Stomp (3:21) Performed by Devo
15. Love Gravy (4:02) Performed by Rick James & Ike Turner
16. Feel Like Makin' Love (3:26) Performed by Ned Gerblansky
17. The Rainbow (2:46) Performed by Ween
18. Tonight Is Right For Love (3:03) Performed by Chef & Meat Loaf
19. It's A Rockin' World (2:32) Performed by Joe Strummer
20. Mephisto And Kevin (5:18) Performed by Primus
21. Mentally Dull (Think Tank Remix) (4:34) Performed by Vitro Featuring The Cast Of South Park
Download / Скачать flac:
Внимание! У Вас нет прав для просмотра скрытого текста.