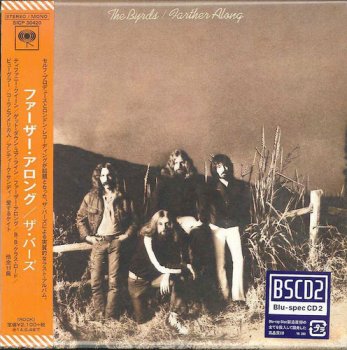 Artist: The Byrds
Title Of Album: Farther Along
Year Of Release: 1971/2014
Label (Catalog#): Sony Music [SICP 30420]
Country: United States
Genre: Rock, Country Rock, Folk Rock, Psychedelic
Quality: FLAC (tracks,cue,log,scans)
Bitrate: Lossless
Time: 59:34
Full Size: 365 mb
Upload: Turbobit
One thing the Byrds had in common with most of their fans was that they weren't especially happy with the absurd overproduction that had been inflicted upon Byrdmaniax in their absence. As a response, the group quickly cut Farther Along in 1971, producing the sessions themselves and getting the album into stores a mere six months after its predecessor. It's certainly a significant improvement, but something short of a triumphant return; the band sounds a bit tired in spots, as if they were starting to run out of gas -- which quickly proved to be the case as the Byrds split up a few months after the album's release. However, Roger McGuinn and Clarence White were nothing if not professionals, and if Farther Along doesn't always sound inspired, it's never less than well-played, really connecting when the group can get their enthusiasm up; the tough rockin' "Tiffany Queen" and the pensive "Bugler" are the late-period Byrds at the top of their game, and "Bristol Steam Convention Blues" features some superb bluegrass picking from White. This is hardly the rousing conclusion to the Byrds' story that some fans might have hoped for, but it's a strong and well-crafted set from a band that inarguably gave it their all right up to the finish line.
TRACKLIST:Original Album Stereo Version
1 Tiffany Queen 2:40
2 Get Down Your Line 3:26
3 Farther Along 2:57
4 B.B. Class Road 2:15
5 Bugler 3:07
6 America's Great National Pastime 2:57
7 Antique Sandy 2:12
8 Precious Kate 2:59
9 So Fine 2:37
10 Lazy Waters 3:33
11 Bristol Steam Convention Blues 2:42
Mono Bonus Track
12 America's Great National Pastime (Single Version) 2:54
Stereo Bonus Tracks
13 Lost My Drivin' Wheel 4:57
14 Born To Rock And Roll 2:58
15 Bag Full Of Money 3:19
16 He Was A Friend Of Mine 2:27
17 Paths Of Victory 3:10
18 From A Distance 3:14
19 Love That Never Dies 3:57
Roger McGuinn – guitar, vocals
Clarence White – guitar, mandolin, vocals
Skip Battin – electric bass, piano, vocals
Gene Parsons – drums, guitar, harmonica, pedal steel guitar, banjo, vocals
:: DOWNLOAD LINKS ::
Внимание! У Вас нет прав для просмотра скрытого текста.
:: MusicMuss ::