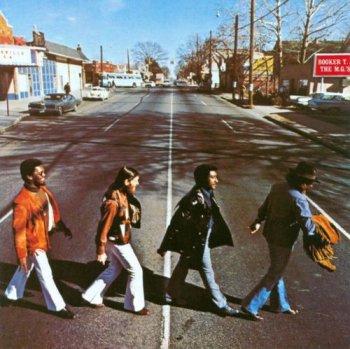 Artist: Booker T. & The M.G.'s
Title Of Album: McLemore Avenue
Year Of Release: 1970/2011
Label (Catalog#): Stax [STX-32874]
Country: United States
Genre: Soul, Funk, Southern Soul, Rhythm & Blues
Quality: FLAC (tracks,cue,log,scans)
Bitrate: Lossless
Time: 59:02
Full Size: 338 mb
Upload: Turbobit
Booker T. Jones was so taken with the Beatles' Abbey Road, he claims he had to respond, just to say "thanks." He convened the MG's -- drummer Al Jackson Jr., bassist Donald "Duck" Dunn, and guitarist Steve Cropper, and recorded McLemore Avenue, a cover version of the entire Abbey Road album in three long medleys (that approximated the structure of the Beatles' album -- particularly its second side) with a cover of George Harrison's "Something" set aside as a single. The MG's even aped the Beatles' cover photo, with one of them strolling down McLemore Avenue, the home of Stax Records. Booker T. & the MG's turned an already hip record into one that was funky as hell, and one that kept listeners guessing by rearranging the order of the tunes to suit the MG's as a band. The set begins with a medley of "Golden Slumbers/Carry That Weight/The End/Here Comes the Sun/Come Together." The juxtaposition of the first two cuts is jarring but seamless. The quartet nails "The End," with fine soloing from Cropper and heated work from Jones on organ and electric piano, before a crescendo and a Moog intros "Here Comes the Sun," done as a summery Jimmy Smith-styled jazz number before turning all sinister on "Come Together." "Something" may have seemed a curious choice for a single, but with Cropper's greasy, bluesy guitar break and Jones playing his organ rhythmically more than melodically, it works beautifully. "Because," wedded to "You Never Give Me Your Money," is a spacious blend of melody and psychedelic groove, setting up the final medley. It is the set's tour de force, commencing with a shimmering "Sun King," before Jackson's drums announce a sprightly, funky "Mean Mr. Mustard" that careens into the guitar overdrive of "Polythene Pam" and the breezy "She Came in Through the Bathroom Window," which morphs into a dramatic, blues-drenched, "I Want You (She's So Heavy)" to close it out. Not only is McLemore Avenue a stellar interpretation of Abbey Road, it's one of the finest Booker T. & the MG's albums to boot.
:: TRACKLIST ::
1. Medley [Golden Slumbers, Carry That Weight, The End, Here Comes The Sun, Come Together]
2. Something
3. Medley [Because, You Never Give Me Your Money]
4. Medley [Sun King, Mean Mr. Mustard, Polythene Pam, She Came In Through the Bathroom Window, I Want You (She's So Heavy)]
Bonus Tracks
5. "You Can't Do That"
6. "Day Tripper"
7. "Michelle"
8. "Eleanor Rigby"
9. "Lady Madonna"
10. "You Can't Do That" (alternate take)
Booker T. Jones – organ, piano, keyboards, guitar
Steve Cropper – guitar
Donald "Duck" Dunn – electric bass
Al Jackson, Jr. – drums
:: DOWNLOAD LINK ::
Внимание! У Вас нет прав для просмотра скрытого текста.
:: MusicMuss ::