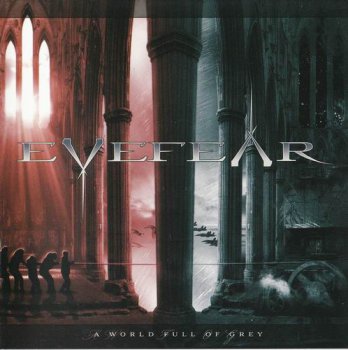 YEAR: 2007
STYLE: Progressive Metal
FORMAT: APE (Image + Log + .Cue + Scans + 5% Recovery)
SIZE: 414 Mb
COUNTRY: Australia
THE BAND:
Danny Cecati - Vocals; Con Papazoglou - Guitars; Zain Kimmie - Drums; Sammy Giaccotto - Keyboards; Rob Gorham - Bass
The band's 2004 album 9 Elements of Inner Vision was a fantastic piece of work with excellent sense of dynamics, crucial synth and guitar dialogue, and mindblowing vocals. Given its overwhelming success, one might have expected Eyefear to expand on that sound further, perhaps bringing in a few extra elements of songwriting and enriching their songs with musical depth and not just rely on vocalist Danny Cecati's strong set of pipes.

A World Full of Grey is definitely a good album; it is cut from the same cloth as its predecessor, but this time around the song arrangements allow Cecati's vocals to shine more than before whilst leaving little room for anything else. The writing has taken a back seat on most of the songs, rendering the album quite predictable after a couple of listens and showing little signs of growth. From an instrumental standpoint, everyone including guitarist Con Papazoglou stays behind the vocalizations while Sammy Giaccotto comfortably provides lucid synth melodies to thicken the music. He goes for the same atmospheric elements, mostly noticeable in the intros of songs like the opener "Searching for Forgiveness", one of the better tunes on the CD whose compositional structuring seems more solid than others'. It begins with soft piano notes before Giaccoto's melodic synth attacks weave in and out rapidly and give way to a solid guitar and drum crunch. Cecati, as before, climbs from his low midrange voice to ripping upper register screams effortlessly before quietening down for a little piano break. It is only then that Papazoglou chimes in with an emotionally powerful lead guitar solo to climax the song -- it is certainly a great way to start the album, but most of the following songs fail to deliver the same tension.

The cuts where Cecati's emotional vocalizations are backed by solid instrumental parts are the best on the album. "Lost Within" and "Whispers of the Soul" both feature some lead guitar work by Andy LaRocque, who also mixed the album. The swift shift from the sinister riffing to a more open sound-base on the former shows the band's genuine potential. The drumming by Zain Kimmie is also amazing here, especially when he does those killer fills before the powerful chorus explodes. Also, there are some dark choir-like vocals at the end, something Cecati rarely utilises on Eyefear songs, but it's these little changes that make their new songs stand out. "Whispers of the Soul" features his most aggressive singing and the guitar work is particularly headbang-worthy, which is a feat in and of itself considering I find most of the guitar playing on the CD uninteresting -- compared to 9 Elements of Inner Vision at least.

There are of course more ballady tunes on the CD as well. "Changes", for example, is among Cecati's most honest vocal performances. The song dynamic is achieved through lots of synths and guitar contrast, and the chorus is simply heart-wrenching. The harmony vocals he does in the finale are among the best on the CD. One can really tell how much more he could offer if the guys in Eyefear set out to write a more diverse record musically and not just vocally.

Once again Australia's wonder child Endel Rivers produced album, lending it a similar vibe as its predecessor. Much like other Australian prog groups, such as Black Majesty and Vanishing Point, the end result is melodic and at times heavy. Andy LaRocque has mixed the CD, but this time around, which could also be attributed to the songwriting, parallels between Eyefear and Evergrey are less detectable.

In a way, the album reminds me of the new CD of Spheric Universe Experience and Redemption, whose previous works were also stunning yet they failed to follow it up with an equally solid release (though their new albums are decidedly better than Eyefear's anyhow). Regardless, fans who enjoy a synthesis of melodic and progressive metal, and bands like Pagan's Mind, Valley's Eve, and Poverty's No Crime, will find much to saviour on this album.
http://www.seaoftranquility.org
Track Listing:
1.Searching For Forgiveness
2.A World Full Of Grey
3.Changes
4.Lost Within
5.Moments
6.The Eyes Tell No Lies
7.Whispers Of The Soul
8.Haunted Memories
9.Breathe Again
10.Searching For Forgiveness (Radio Edit)
The Band:
Danny Cecati - Vocals
Con Papazoglou - Guitars
Zain Kimmie - Drums
Sammy Giaccotto - Keyboards
Rob Gorham - Bass
Внимание! У Вас нет прав для просмотра скрытого текста.