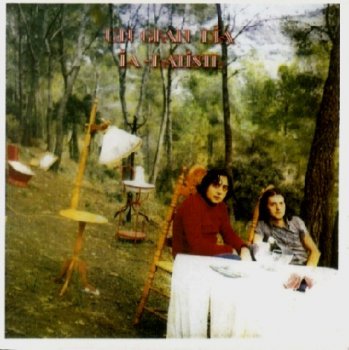 Artist: Ia-Batiste
Album: Un gran dia
Year: 1972
Country : Spain
label : Picap
Style: Progressive Rock
Genre: Psychedelic, Prog-hard, catalan folk
Format: ape (image) cue, log, md5 & full artcover.
Size: 292 MB (5 % recovery)
Source: My cd collection

Key duo from the Catalan folk scene, result of the union between Ia Clua (from '2+1') and Jordi Batiste (one of the leading forces of Maquina! together with Enric Herrera), after the Jordi's return from military service.
It's an excelent mix of folk, progressive rock and psychedelic hard-prog.
Un Gran Da, the duo's first album, was recorded at the end of 1972 with the help of such outstanding musicians as Manel Joseph (ex '2+1', Ia's early band), Joaqun 'Max' Su (Vrtice, Tapiman, Iceberg) & Albert Batiste (Musica Dispersa). The result is an amazing & varied musical tapestry, best heard in the record's first side, a long suite covering from orchestral folk-pop with some psych leanings ('Un Gran Da,' 'Max') to straight in-your-face hard rock ('Sleeping Rock') via typical early '70s prog rock ('Oliba') or uncatagorizable experiments which defy all rules ('Reprise') and show perfectly the freaky stage reached by the Catalan scene in its early years (as a matter of fact, the record is sung in English and Catalan...).
More info:
http://www.dlsi.ua.es/~inesta/Prog/SPE/iabatiste-e.html
Track:
01 Un gran dia
02 Max
03 Sifón
04 Sleeping Rock
05 Oliba
06 Amèrica to you
07 Pallarès
08 Sky into the bus
09 Anna
10 Morrisong
11 Bonus track 1
12 Bonus track 2
Line-up :
Jordi Batiste (voz, bajo y flauta)
Ia Clua. (Guitar)
Santi Arisa
guests
Внимание! У Вас нет прав для просмотра скрытого текста.