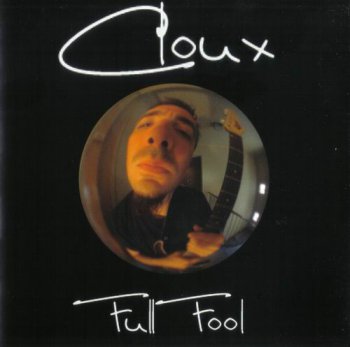 YEAR: 2004
STYLE: Technical/ Progressivel/ Math Metal
FORMAT: FLAC (Image + Log + Cue + Scans + 5% Recovery)
SIZE: 189 Mb
COUNTRY: France
THE BAND:
Sylvain "Cloux" Ducloux - guitar, drum programming; Kengo Mochiziki - bass; Xavier Zolli - bass; Simon Fleurry - voices
Для всех поклонников сверхтехничного металла. таких как Spastic Ink, Spiral Architect, Watchtower и прочие посвящен сей отличный опус...
This is guitarist Cloux' debut cd. He has been diligently studying his craft for some years now, and has now put forth the effort to create 'Full Fool", a short but compact cd that is chock full of technical metallic, instrumental guitar fun.
This cd touches into the obscure and rare territory of technical metal. A genre very few artists are willing to venture into, merely for the fact that the audience for this music is collectively small, yet very dedicated. Other bands and artists that exist under this category are : Spastic Ink, Actual Time, Spiral Architect, Ron Jarzombek, Watchtower, Behold..The Arctopus, and nary a few more.

Cloux definitely calculates his time measures and rhythmic accompaniment in a very structured and disciplined way, much like these other musicians in this style do, yet he manages to put his own fingerprints on his music, it also offers some nice melodic guitar playing to coincide with all the odd metered structures. When the situation allows, he also shows a deft touch as a lead guitarist, showing hints of Steve Vai, Mattias IA Eklundh and Ron Jarzombek as possible influences. I enjoyed this cd a lot, from the first song to the last, it was playful and serious at the same time, some vocal zaniness was added to compliment the music's carefully constructed time changes.

I really cannot find fault in this release, everything sounds exactly the way I am sure Cloux meant it to. He employs drum programming, and it was masterfully done, with great tone and patches, although for selfish reasons it would have been nice (and impressive!) to hear a real drummer playing to this kind of music, as it is very challenging music from a drumming perspective, and having heard what players like Bob Jarzombek, Asgeir Mickelsson, or Rick Colaluca can do with similar musical challenges. Perhaps next time? My only other problem with Cloux' new cd is that it is so short!
http://www.guitar9.com

Every guitarist dreams of being a guitar hero to impress someone else than their sister. Many tried and released one or two albums, but none of them really ranked high in the history of guitar… main problem: not the lack of abilities but the cruel lack of originality, of personality.

What about Cloux? Well, this French guy is not the new guitar god, no need to bow at him, and he won't change History with his record… BUT at least, this guy got that something many are lacking: his own style. Cloux is not ripping another guitarist's talent like many do.

All along the 6 tracks of the CD, you'll hear that the particular way he has chosen to play is not the easiest to listen to, with many breaks, with some highly deconstructed passages and others more lively, a bit groovy and supported by some bass slap. But it's all very well linked, and comes in a natural way, yet still surprising.
Even though all the tracks range in the 3 minutes, with the same musical tricks, they all stay in your mind somewhat different. Of course 2 tracks stand out, because they're not completely instrumentals.
On "Human Being", Simon Fleury repeats two sentences, in a semi growling voice: "I'm not an animal, I'm a human being!" (from the movie The Elephant Man) and "May the Force be with you" (guess), and on "Burp"… well, he… burps (!), but also explain us what is a burp (very surprising definition I must say).

Yeah, this album is not super serious, as the title clearly suggests. Full Fool is one of those albums which are just pleasant to hear, for unknown reasons. Plus, it's quite well produced, even though it's nothing special, it's nothing bad. You can hear all the instruments perfectly and everything sounds credible.
In fact, the biggest problem with this album is that it may be too "shy". It would have been cool to bring more diversity, by using even softer or extreme passages, or something more ambitious for example.
Yet it remains a very pleasant attempt, a good start!
http://www.metalstorm.net
Track Listing:
1. Human Being 3:17
2. Full Fool 3:49
3. Burp 3:50
4. Memento 3:51
5. Treacle 3:19
6. Lead On 3:00
The Band:
Sylvain "Cloux" Ducloux - guitar, drum programming
Kengo Mochiziki - bass
Xavier Zolli - bass
Simon Fleurry - voices
Внимание! У Вас нет прав для просмотра скрытого текста.