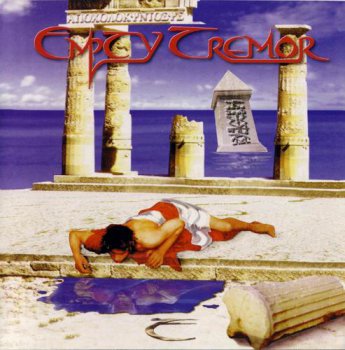 YEAR: 1997
STYLE: Progressive Metal
FORMAT: FLAC (Image + Log + Cue + Scans + 5% Recovery)
SIZE: 484 Mb
COUNTRY: Italy
THE BAND:
Giovanni De Luigi / vocals; Christian Tombetti / guitar; Marco Guerrini / guitar; Dennis Randi / bass; Stefano Ruzzi / drums; Daniele Liverani / keyboards
EMPTY TREMOR, originally a covers band, went under the title of NOISE POLLUTIONE upon their formation in 1993. The following year heralded the name change to EMPTY TREMOR, the substitution of vocalist De Paoli Davide by Matteo Babini and the recording of the demo "Apocokyntosys". The eight tracks delivered on this tape would mostly re-surface under differing titles on the debut album, the band adding keyboard player Daniele Liverani at this juncture.
Prior to his induction Liverani had issued a whole swathe of demo cassette releases trailing back to 1988, his last being 1995's "Nearly Gold Emotions". In 1996 Babini left the fold and a new front man, Giovanni Di Luigi, was enrolled for recording of the debut album, re-working all the lyrics from the demos.
The band contributed a medley of DREAM THEATER songs plus an original composition "The Message Keeper'" to a tribute album "Voices" in 1999. Keyboard player Daniele Liverani, also an accomplished guitarist, also bowed in with his first solo outing "Viewpoint".
Just as Liverani issued his second solo album "Daily Trauma'" vocalist Giovanni Di Luigi decamped from EMPTY TREMOR in December of 2000.Daniele Liverani, founded the hugely ambitious genius concept album of 2002.
EMPTY TREMOR made a return in 2003, proposing a new album with a provisional title of "The Alien Inside". Fronting the band for these sessions would be AT VANCE singer Oliver Hartmann. The singer also came to attention outside of his priority band activities, delivering choral vocals for a Daniele Liverani 2004 genius outing "In Search Of The Little Prince".
http://www.metal-observer.com


Empty Tremor are an Italian progmetal band. They are professional, and good at what they do. The only problem is that what they do has been done before. In 1992, by Dream Theater, to be exact. There are places on this CD where they blatantly rip off Dream Theater. In fact, the whole album lacks originality. And yet, it's still a decent album. It avoids much of the cheesiness of DT, but does have it's share of light parts. The keyboards, guitars, and bass and drums are all good: occasionally flashy, but always solid. The songs are reasonably intricate, but not reaching the acrobatic DT/Altura style. There are usually multiple sections to each song, and they flow well. The production is clean and strong. The only weak link are the vocals, which sound a little flat at times. On the other hand, he does have a good, strong voice. So it might be the fault of the vocal lines, which don't fit the music very well. This is a good album, but needs some originality to stand above the crowd. DT fans should eat it up, especially if they were unhappy with _Awake_ and _FIF_.
http://www.chroniclesofchaos.com
Track Listing:
1. The eyes of universe (7:36)
2. Rules of time (6:16)
3. The message keeper (7:32)
4. Running rusty rails (5:10)
5. Apocolokyntosys (9:16)
6. Middleman (4:42)
7. Slice of life (2:58)
8. Screaming loud the sins of the world (8:27)
The Band:
- Giovanni De Luigi / vocals
- Christian Tombetti / guitar
- Marco Guerrini / guitar
- Dennis Randi / bass
- Stefano Ruzzi / drums
- Daniele Liverani / keyboards
Внимание! У Вас нет прав для просмотра скрытого текста.