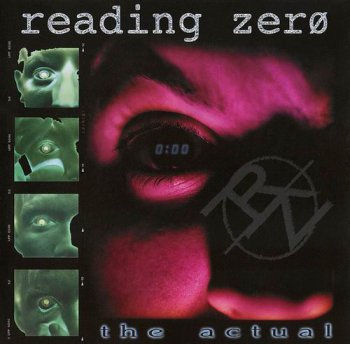 YEAR: 1997
STYLE: Progressive Metal
FORMAT: FLAC (Image + Log + Cue + Scans + 5% Recovery)
SIZE: 409 Mb
COUNTRY: USA
THE BAND:
Chris Roy - vocals, bass and synth; Chris Pellerin - electric and lead guitars; Joel Decatur - electric and acoustic guitars; Russ Pellerin - drums
Biography:

The Next Stage, the newest demo CD released by Reading Zero, could not be more appropriately titled, for this band is indeed readying themselves for the "next stage" of their relentless musical journey. Since forming in 1990, they have accumulated a catalog of songs ranging from demo form as well as two explosive self-released albums, The Actual (1998) and Satellite Sessions (2000). Both self released albums have been internationally distributed on their own Y.O.R. Records label. Reading Zero has garnered mass recognition and critical acclaim from some of the biggest magazines in the world of Metal such as Metal Maniacs, Kerrang, Metal Hammer, Rock Hard and Heavy Oder Was!?. In these, and others, they have earned worldwide praise for their powerfully melodic and totally original musical compositions. They have developed a very large and loyal fan-base by playing clubs from their home state of New Hampshire down to South Florida and back. Over the last 12 years, their live performances have included a touring show roster of such diverse acts as: Evergrey, Pain Of Salvation, Symphony X, Savatage, Jag Panzer, Helstar, Hades, Power Of Omens, Zero Hour, Divine Regale, Last Crack, Mastermind, Ice Age, Stomp Box, Wargasm, Joe Stump and Event. With the prestigious ProgPower USA III Festival behind them, they have added to this roster; Blind Guardian, Gamma Ray, Angra, Silent Force, Threshold, Edguy, and Devin Townsend. Appearances on several important compilation CDs have contributed to positive word of mouth and has helped spread Reading Zero's signature sound to the masses. The Powerquest compilation CD, distributed by KMI Entertainment, included RZ's awe-inspiring "Dimensions". Other exclusive tracks to appear on this historical compilation include performances by Ian Parry (Elegy), Thomas Youngblood (Kamelot), Chris Broderick (Jag Panzer), Digital Ruin, Winter's Bane, Cage and Mystic Force. Selected tracks from both RZ's debut and sophomore releases also appeared on both the 1998 and 2000 issues of Powermad compilation CDs released worldwide by Siegen Records. Being long time fans of metal music, the members of Reading Zero have often been asked to lend their support and talents to various other projects. Most recently, Chris Roy was asked by his good friend and fellow musician, Nick Van Dyk, to collaborate in the lyric writing of the song "Nocturnal." This ominous and driving song can be found on the debut self titled release of Nick's band Redemption. This CD has just been released in 2003 on Sensory Records. In addition, Chris and Joel contributed background vocals to the Redemption project, which also included some of Metal's most elite artists such as members of Fates Warning, Engine, Agent Steel, Symphony X and Steel Prophet. Drawing from a diverse list of influences, Reading Zero creates a larger-than-life, dark and mysterious sonic tidal wave that reaches a dynamic plateau of intensity that very few bands have been able to achieve. Layered guitar passages, tasteful lead work, flowing acoustics, creative lyrics and catchy choruses are part of the signature RZ sound. Dynamic vocals combined with a subtle scattering of modern electronic sounds and powerful drum-work have enabled them to forge a path all their own. A band who is revered for their consistently animated and emotionally intense live performances. It's rare to find a band that challenges musicians, but remains accessible to a vast multitude of listeners, Reading Zero does just that and all the while maintaining an immediately recognizable songwriting style. Reading Zero has clearly established themselves as a highly regarded and true underground giant and yet they are only in the larval stage of their full potential. Greatly respected for their uncompromising creativity, they are now ready to broaden the industry's musical horizons. Reading Zero is eager to embrace the many new opportunities that await them and are ready to take their musical venture to another dimension. Through the support of loyal fans, this is more than possible, it's inevitable. Reading Zero is currently scouring the Earth for the perfect franchise that has the foresight and experience to help them reach the masses on a more global scale.
http://perfectprog.com
Track Listing:
01. The Actual
02. Amongst The Clouds
03. Different Climb
04. Dimensions
05. Strategy
06. Midsummer Daydream (Part 1)
07. The Charade
08. Mirage
09. True To Form
10. And Never To Return
11. Amongst The Clouds (edit)
The Band:
Chris Roy - vocals, bass and synth
Chris Pellerin - electric and lead guitars
Joel Decatur - electric and acoustic guitars
Russ Pellerin - drums
Внимание! У Вас нет прав для просмотра скрытого текста.