Artist: Chris Farlowe With The Hill
Title Of Album: From Here To Mama Rosa
Year Of Release: 1970/2010
Label (Catalog#) : Flawed Gems [GEM 29]
Country: UK
Genre Prog Rock, Psych Rock
Quality: Flac (*tracks+cue,log,scans)
Bitrate: Lossless
Total Time: 01:03:01
Total Size: 392Mb
AllMusic Review by Bruce Eder
Following the dissolution of Immediate Records, Chris Farlowe cut this album with the band the Hill, which was comprised of Bruce Waddell on bass, Colin Davey on drums, Peter Robinson on keyboards, Steve Hammond -- late of Fat Mattress -- on guitar. with Paul Buckmaster (the same man who arranged the accompaniment on albums by Elton John, among others) filling in the last spot on cello. The results were a strange but beautiful amalgam of bluesy hard rock and progressive rock, highlighted by "Black Sheep" and "Mama Rosa" (a song about a drug dealer). It was all a new style for Farlowe -- a British soul shouter who was good enough to share billing with Otis Redding on the latter's Ready, Steady, Go debut -- and one that worked astonishingly well, and served as something of a bridge to his work with Colosseum. He shares the spotlight here with a very busy organist (with lots of cadenzas) and an extremely talented guitarist, but it all holds together and, in fact, is some of the most powerful progressive rock you're likely ever to hear.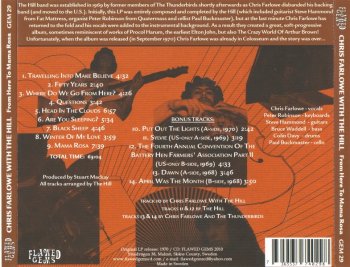 Tracks:
-------
01. Travelling Into Make Believe - 4:32
02. Fifty Years - 2:40
03. Where Do We Go from Here? - 4:26
04. Questions - 3:42
05. Head in the Clouds - 6:57
06. Are You Sleeping? - 5:34
07. Black Sheep - 4:46
08. Winter of My Life - 3:59
09. Mama Rosa - 7:39
Bonus Tracks
10. Put Out the Lights (A-Side, 1970) - 2:42
11. Sylvie (US-Only A-Side, 1969) - 3:19
12. The Fourth Annual Convention of the Battery Hen Farmer's Association Part II (US-Only B-Side, 1969) - 4:33
13. Dawn (A-Side, 1968) - 3:46
14. April Was the Month (B-Side, 1968) - 3:50

Personnel:
------
Chris Farlowe - vocals
Bruce Waddell - bass
Colin Davy - drums
Steve Hammond - guitar
Paul Buckmaster - cello
Peter Robinson - keyboards

All thanks to original releaser
Внимание! У Вас нет прав для просмотра скрытого текста.