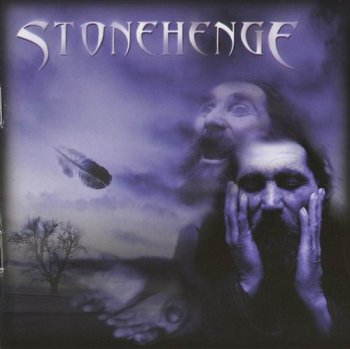 YEAR: 2001
STYLE: Progressive Metal
FORMAT: FLAC (Image + Log + Cue + Scans + 5% Recovery)
SIZE: 523 Mb
COUNTRY: Hungary
THE BAND:
Balázs Bóta / guitars; Zoltán Bátky / vocals, samples; Ádám Baki / keyboards; Kristóf Szabó / drums; Bertalan Temesi / bass
Качественный прог. Рекомендую.
The music business has become an industry of do-it-yourselfers. With a couple friends and a couple songs, practically anyone can record a CD these days. A few of those discs are even worth hearing. Enter Stonehenge, a progressive-metal quintet from Hungary pitching its independently released first CD, Angelo Salutante, via email to music journalists around the globe. These guys were labeled the surprise band at 2001's ProgPower Europe festival and reportedly were a big hit at the 2002 event, appearing with the likes of Threshold, Dead Soul Tribe, Heaven's Cry and After Forever.

By bridging elements of American bands like Dream Theater, Queensrÿche, Iced Earth and Symphony X with distinct European soundscapes, Stonehenge have crafted an accessible, memorable and majestic album overflowing with crescendos and decrescendos, appealing vocals sung in impeccable English, and sonic class. Of the 12 tracks here, only two are instrumental. The rest, ranging in length from two minutes to almost eight minutes, bask in an ethereal world of contrasting lightness and darkness that's as mysterious as the band's namesake. Lyrically, Stonehenge don't fall into any tidy category: "Whisper" is a beautiful love song, "Angels" laments a faraway friend, "Wendigo" invokes a monster from Native-American mythology and "Fly" is about a boy who longs to soar with the birds.

The band is reportedly already working on a new album. If that disc turns out to be as stunning as its predecessor, Stonehenge better find a label that can provide worldwide distribution. These guys will need it ...
http://www.seaoftranquility.org/
Track Listing:
1. Invocation (1:29)
2. Newcomer (7:37)
3. For Another (4:48)
4. Wendigo (6:51)
5. Angelo Salutante (2:13)
6. Angels (5:01)
7. Full Moon (5:26)
8. Whisper (3:42)
9. Between Two Worlds (6:09)
10. Rambling (7:20)
11. Fly (6:48)
12. Yellow (3:55)
The Band:
- Balázs Bóta / guitars
- Zoltán Bátky / vocals, samples
- Ádám Baki / keyboards
- Kristóf Szabó / drums
- Bertalan Temesi / bass
Внимание! У Вас нет прав для просмотра скрытого текста.